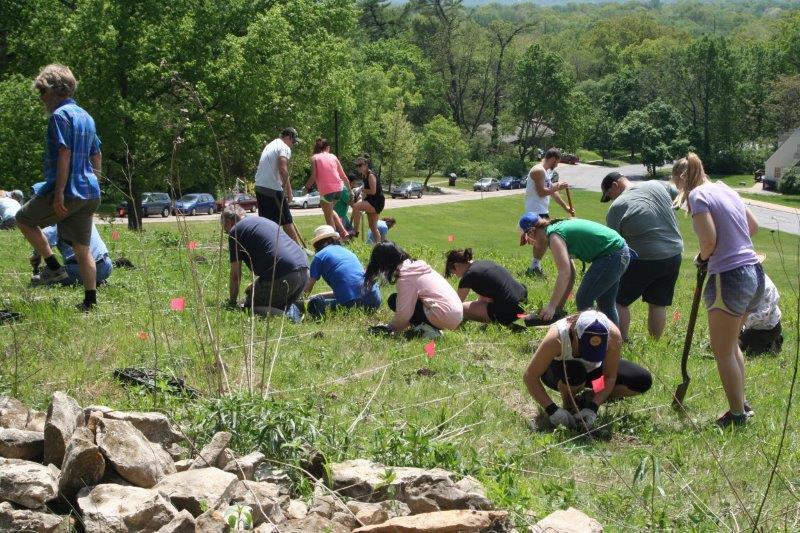 Since the early 1990's, there were multiple attempts to restore Prairie Acre back to its original glory. Efforts to restore and maintain the site were halted by limited resources, safety regulations with regards to regular burns, and the fact that Prairie Acre was still considered prime expansion area for the University of Kansas.
In 2014, seniors from the Environmental Studies Programs Capstone Course, developed a restoration plan used to guide the restoration, protection and preservation of Prairie Acre.
Funding for the project was provided by:
The Elizabeth Schultz Environmental Fund, through the Douglas County Community Foundation
Douglas May and Catherine Schwoerer
KU Center for Sustainability
Restoration Timeline
Fall 2017
As a part of Super Service Saturday, volunteers came out on August 26th,to help remove Johnson grass from the site.
KU and Lawrence community volunteers planted the Prairie Acre Demonstration Garden in late September.
On September 30th, volunteers gathered to remove Johnson grass and other invasive species from Prairie Acre.
Seeds were harvested from native remnant prairies near the KU Field Station during the month of October.
On October 24th, the KU Center for Sustainability hosted the Prairie Acre Open House.
Volunteers gathered at the Kansas Biological Survey on December 3rd, to clean seeds previously collected.
Spring 2017
On March 14, 2017, a prescribed burn was conducted on the Prairie Acre site during snowy conditions.
The EVRN capstone class worked on pulling out irises from the iris beds around the site.
Facilities and Operations mulched the old iris beds, assisted in the tilling of the expansion site located east of Prairie Acre proper and helped eliminate Bermuda grass from the expansion site.
Volunteers gathered to plant the prepared expansion site on Earth Day.
Bonnie Johnson incorporated Prairie Acre into the Site Planning and Design course in the Urban Planning Program.
Spring 2016
Volunteers gathered to plant seeds from 100 different species in the greenhouse.
Project leaders and Field Station Crew conducted a controlled burn.
On Earth Day, two weeks after the burn, volunteers gathered to plant nearly 3,000 seedlings at Prairie Acre.
Fall 2015
Volunteers gathered for planning meetings in the fall of 2015 to discuss hopes and visions for Prairie Acre.
Matt Burke, Department of Visual Art, incorporated Prairie Acre into his curriculum, asking his sculpture students to envision and work on a structure for the site.
Fundraising kick-off! The Endowment Association helped set up a donation site to help raise money for the project.
The EVRN Field Ecology class visited numerous prairies to study techniques that go into prairie restorations.
In October, Dr. Hagen's Field Ecology class and Dr. Helen Alexander's Kansas Landscapes class harvested seeds from native remnant prairies around Douglas County.
Volunteers led by Courtney Masterson and Kelly Kindscher collected seeds from nearby native prairie remnants.
On December 6th, volunteers gathered at the Kansas Biological Survey to clean seeds harvested in October.
Summer 2015
Dr. Robert Hagen incorporated Prairie Acre into the curriculum of his Field Ecology class as well as EVRN 170, 171, and 172. The classes worked on creating a number of permanent plots which will be used for tracking plant diversity in the coming years, identified the number of species and their abundance in each plot, identified invasive species, and began removing woody invasive species from the site.