Biking On and Off Campus
---

Routes to Campus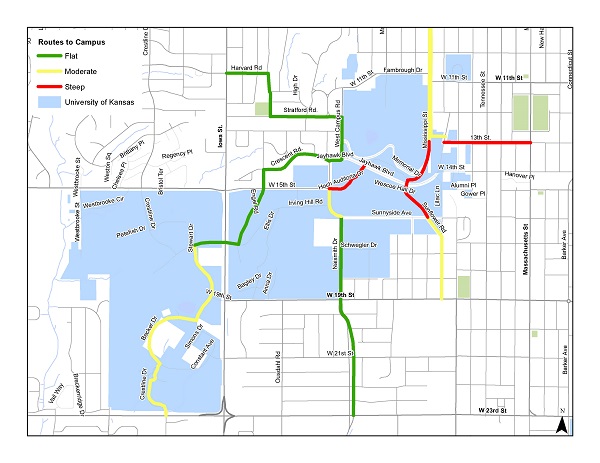 [See Larger Image - Opens in New Tab]
From the North
Mississippi Street offers the gentlest slope, although some cyclists may tire of the long, slow hill. One option is to use the Kansas Union parking garage elevator to reach Jayhawk Boulevard instead of climbing past Memorial Drive to the top of the hill.
From the South
Naismith Drive has arrows and two lanes of traffic in each direction between 23rd Street and Sunnyside Avenue, allowing vehicles to give bicyclists plenty of distance. At the intersection of W. 15th Street and Naismith Drive, bicyclists can turn east up the moderately steep but more bikeable Hoch Auditoria Drive. Another option for bicyclists approaching from the south and farther east is to take Indiana Street to Sunflower Road, which has a similar profile to Mississippi Street.
From the East
The slope on this side of the hill is one of the steepest. Apart from lengthy detours to reach Sunflower Road or Mississippi Street, cyclists may be better off taking 13th Street to the base of the hill near Tennessee Street and walking their bicycle the few blocks up to Jayhawk Boulevard.
From the West
From 15th Street, cyclists are advised to take Crescent Road to Jayhawk Boulevard. Those taking W. 15th Street will find a steep downhill followed by a steep uphill, a difficult route for most cyclists. From the northwest, campus can be accessed from a marked route along Harvard Road, Sunset Drive, and Stratford Road, which enters campus at West Campus Road.
Bike Parking on Campus
Bike parking is available throughout campus near most major buildings. All bikes must be parked at a bike rack and not be chained to handrails or sign posts. Always lock your bike to racks with a U-Lock and cable.  
Bike rack locations can be located using our interactive map.
Biking in Lawrence
The City of Lawrence's Bicycle Rideability Map page has biking resources, including a downloadable showing routes throughout town and beyond that match your skill level, and interactive maps showing local roads and trails. Visit the Lawrence Parks & Recreation Biking website for additional information on public bike repair stands and more.
Bikes + Buses
All Lawrence and KU buses have bike racks, allowing you to combine biking and public transit to get where you want to go.