Campus Trees
---

Trees are an important part of our campus identity. From the trees lining Jayhawk Boulevard to Marvin Grove, trees are one of the signature contributors to campus beauty.
To help maintain and enhance the beauty of the campus landscape, as well as to assist with the preservation and revitalization of our historic green spaces, the University of Kansas established a Campus Tree Advisory Board. In support of ongoing campus forestry efforts, this board is charged with:
Approve new policies and future updates related to tree replacement and tree care.
Oversee efforts to raise funds to maintain a dedicated "tree bank" for new trees and tree replacement.
Provide guidance for KU's annual Arbor Day event, Replant Mount Oread.
Provide guidance for an annual service-learning project related to campus forestry.
Campus landscaping is guided by the Campus Landscape Replacement policy.
---
Donate to Campus Beauty
Individuals who want to support sustainability and contribute to sustaining and enhancing the beauty of campus can make a monetary donation to support campus landscaping projects.
Replant Mount Oread
Replant Mount Oread brings together campus departments, student organizations, community members, and alumni to help plant trees and develop a "tree bank" to fund future tree replacement, breathing new life into our campus forest.
History of Replant Mount Oread
There is a Chinese Proverb that reads, "The best time to plant a tree was twenty years ago. The second best time is now."  Let's get started!
On March 29, 1878, faculty and students gathered on Mount Oread to plant over 300 hackberry, evergreen, elm, and honey locust saplings as part of the first Arbor Day celebration at KU, a special holiday called by Chancellor James Marvin . In the decades that followed more than 200 walnut and oak trees were added to what is now known as Marvin Grove, elm trees grew into a canopy over Jayhawk Boulevard, and flowering redbud and crabapple trees brightened the spring landscape.
More than a century after those first plantings, we are losing historic elements of a campus that is considered one of the most beautiful in the nation. Campus trees are being removed due to disease, storm damage and age at a rate faster than they are being replaced. Despite ongoing efforts by planning and facilities staff and generous donors, it continues to be a challenge to maintain our beloved trees.
Volunteer
If you are interested in participating in future Replant Mount Oread or other campus sustainability projects, contact us at sustainability@ku.edu.
Replant Mount Oread and Other Projects
Volunteers planted 14 trees and added to the planting beds around the lawns of Marvin, Chalmers and Lindley halls. Sign up to volunteer today! Project included Elm, Maple and Pine trees, as well as various shrubs, hostas, and other perenials.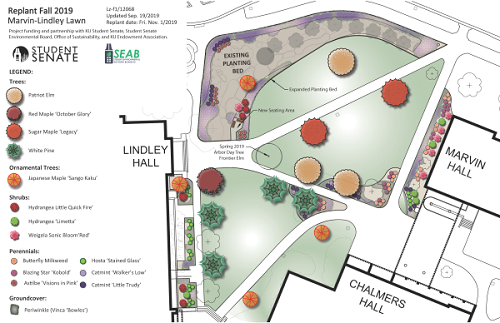 In honor of Arbor Day, volunteers placed a Heritage Elm in front of Lindley Hall.
On November 2, more than 30 volunteers joined us on the lawn in front of Watson Library to plant trees, lining the sidewalks in front of Watson and Fraser Hall. The project also added shrubs added to the beds on the west side of Fraser.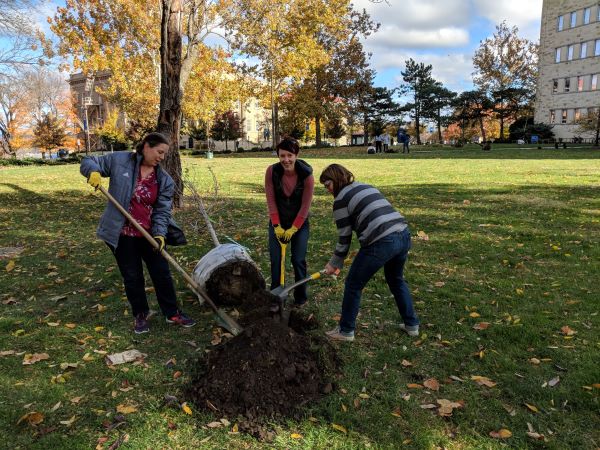 Spring 2018 year marked 140 years since KU's first Arbor Day, with classes canceled in 1918 by Chancellor James Marvin so students could help plant nearly 300 trees throughout campus. And while Replant hasn't hit that milestone yet, we did celebrate planting more than 175 trees since the program started in 2012. The map below shows the location of each planting over the years.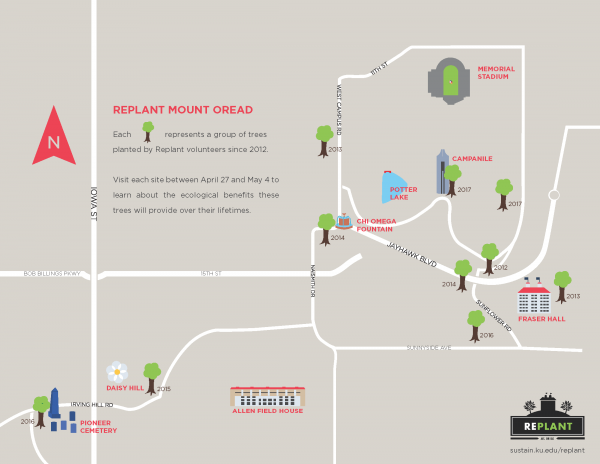 On October 27, volunteers braved the cold and wind to plant 18 Crabapples and six Whitebuds near the Campanile for future Jayhawks to enjoy as they prepare for the big walk down the hill at graduation.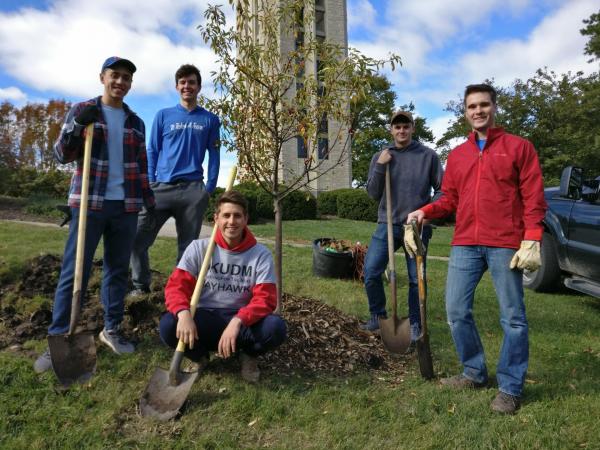 In 2017, Replant Mount Oread returned to our roots with a planting in historic Marvin Grove. On Friday, April 28, volunteers planted three American Linden, four Kentucky Coffee, and four Red Oak trees in an area of the grove just west of the Spencer Museum of Art. The project also added nine Redbuds to the Mississippi Street Terrace along Jayhawk Boulevard. A total of 20 trees were planted as part of this project.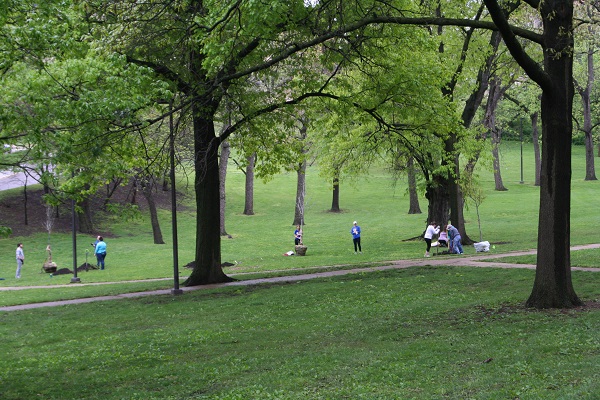 The Fall 2016 Replant Mount Oread event took place on October 21, along Sunflower Road and Sunnyside Avenue. The oak, honeylocust, sycamore, and elm trees now provide a shaded walk up the hill from the southeast corner of campus. Three redbuds will completed the project, adding color to the landscape east of the Hall Center. A total of 19 trees were be planted as part of this project.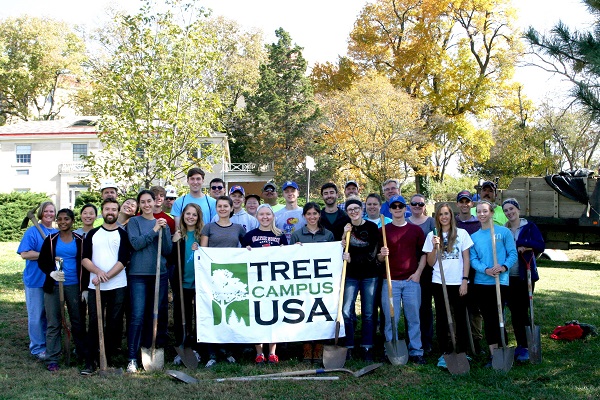 The Spring 2016 planting took place on April 26, Arbor Day, at Pioneer Cemetery in the West District. This hidden piece of KU and Lawrence history was first established in 1854 and was the final resting place for early settlers and victims of Quantrill's Raid and the Civil War. In more recent decades it has been a place of internment for members of the University of Kansas Community.
Inspired by a native palette from the 1800's, we planted a total of 19 trees including oak, hackberry, redbuds, crabapple and pine trees. The costs were covered by donor-established funds to support and maintain Pioneer Cemetery.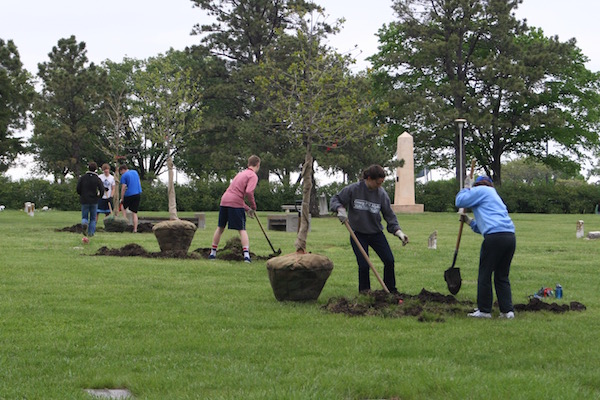 Added 19 new trees to the campus landscape on October 30. The site was along West Campus Road in front of Joseph R. Pearson Hall and Carruth-O'Leary Hall. Many of the trees in that area were ash trees and at least half of them were in poor condition and needed to be removed. Healthy trees were preserved, and a variety of new trees, including Shumard Oak, Thornless Honeylocust, Lacebark Elm, redbud and whitebud were added. We also replaced the old and overgrown juniper shrubs in front of Carruth-O'Leary Hall with 55 new ones to refresh the beds.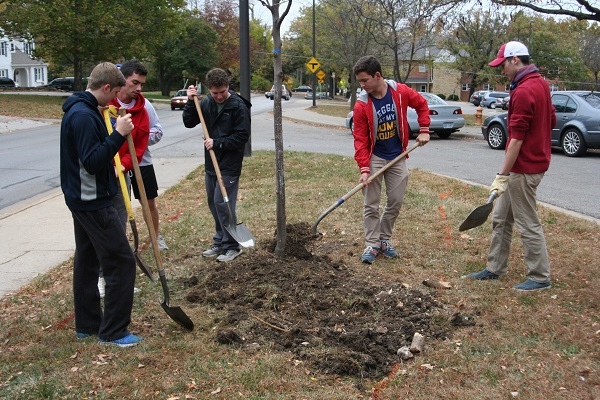 Alumni of KU's Daisy Hill residence halls may recall the burst of color along Irving Hill Road behind Hashinger and Lewis Halls as crabapple trees bloomed each spring. However, many of those trees had been removed in recent years. For our 2015 spring project, Replant Mount Oread planted 37 crabapple trees along this major route between the residence halls and academic buildings in the Central and North Districts of the Lawrence Campus. Thank you to all the volunteers who dedicated their time to make the project happen.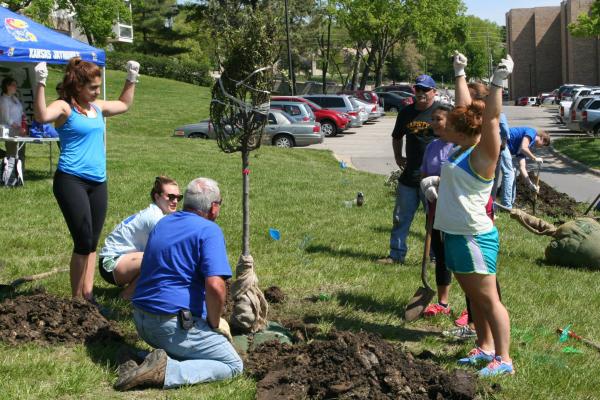 Due to the success of our spring planting events, Replant added a second planting in the fall of 2014. The lawn between Marvin and Lindley Halls, just south of the Chi Omega Fountain, was selected as the planting site. Known for its small grove of pear trees, the original landscaping at this site was a gift from the class of 1947. Through the Replant project the area was enhanced with nine additional Bartlett Pear trees, along with Dwarf Mugo Pines, peonies and periwinkle.
The project also included a Black Hills spruce donated in memory of Gianfranco Villagomez-Saldana. A 2013 graduate with a Bachelor of Fine Arts in industrial design from the School of Architecture, Design & Planning, Villagomez-Saldana was pursuing a degree in computer science in the School of Engineering when he died in December 2013. KU's International Student Services program collected donations for the tree.
Additional Information: KU news release (10/21/24); Lawrence Journal-World article (10/24/14); Lawrence Journal-World editorial (10/28/14); University Daily Kansan article (10/28/14); University Daily Kansan article (10/28/14)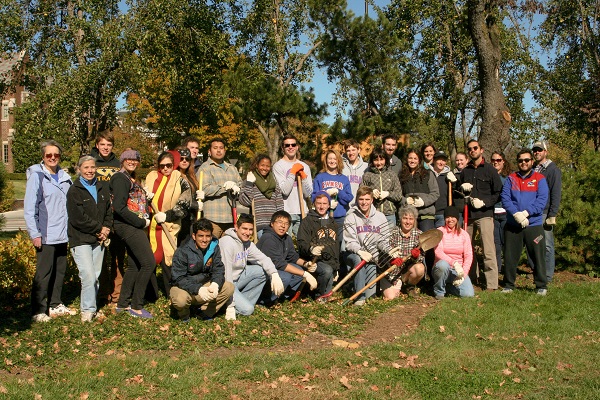 Stauffer-Flint and Watson Library Lawns were the focus of the Third Annual Replant event on April 11. More than 30 volunteers planted nine trees, which included oaks, zelkova, and Golden Raintrees. The site was selected in part because of its historic ties and its importance to modern-day student life.
Many of the larger trees on this site are ash trees that may be susceptible to the emerald ash borer, a highly destructive, invasive insect that has been reported in neighboring counties. Although some ash trees on campus will be treated to protect them from the insect, Replant efforts like this one are a proactive approach to help mitigate future losses to predicted disease and damaging insect infestations.
Additional Information:KU news release (3/3/14); KU news release (4/10/14); University Daily Kansan article (4/14/14);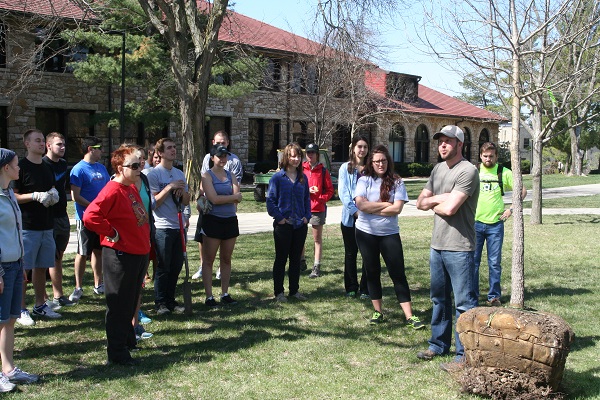 After being snowed out on April 18, nearly 30 volunteers assisted with the second annual Replant Mount Oread event on May 1, 2013. The group, which included students from the Environmental Law Society, Environs, and Alpha Tau Omega fraternity, planted 11 crabapple trees on the east side of Fraser Hall.
Additional Information:KU news release (4/12/13)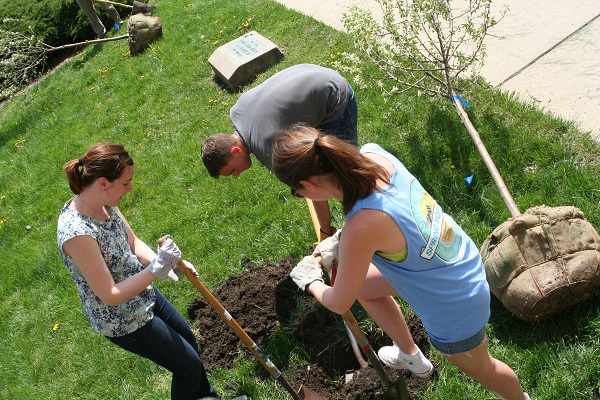 On March 29, 2012, the University of Kansas and the Campus Tree Advisory Board launched the Replant Mount Oread initiative. Chancellor Bernadette Gray-Little kicked off the inaugural event by helping plan the first tree. More than thirty volunteers from the campus community joined the effort and planted ten redbud trees and a bed of iris along Jayhawk Boulevard, just west of Lippincott Hall. This planting was done in commemoration of the first Arbor Day celebration at KU on March 29, 1878, when Chancellor James Marvin called a special holiday to encourage faculty and students to plant approximately 300 tree saplings on Mount Oread.