Campus Sustainability Overview
---

Vision
A campus community that is empowered to protect natural ecosystems, create economic prosperity and treat all people with equity and respect.
Mission
Empower a sustainable campus community through planning, partnerships, education, and service.
Values
Collaboration — Sustainability requires that we all take responsibility and work across disciplines to solve the complex challenges we face.
Accountability — We must be able to demonstrate the impacts of our actions, follow through on our commitments, and expect the same of our partners.
Equity — We must ensure that all people are included in creating a more just and sustainable future.​
Wellness — A sustainable campus promotes physical and mental health and wellness.
Sustainability Leadership Awards
The KU Center for Sustainability recognizes individuals, programs, and/or groups with the Campus Sustainability Leadership Awards in April as part of our spring festivities. The awards highlight outstanding leadership and creativity in addressing issues of environmental, economic, and social responsibility on the KU campus and in the broader community.
For more than 10 years, the KU Center for Community Outreach's Earth program has mobilized KU volunteers to further sustainability on and off campus. The KU CCO hosts trash pickups after game days, coordinates Cans for Community donations, and runs the Campus Garden, which donated over 500 pounds of organic produce to KU Campus Cupboard this year alone.
The CCO also works with numerous other community partners for trail building and garden maintenance. In spring 2020, they delivered seeds to KU students who wanted to grow their own mini-gardens and provided remote assistance. Within the first 24 hours of posting a seed survey to begin the remote gardening program, the CCO had more than 100 responses from KU students and staff.
The Earth program not only engages students but also community partners, such as Cans for Community, Campus Cupboard, Youth O'Connel Ranch, the Lawrence-Douglas County Health Department, and the Kansas Trails Council. The program has been intentional in involving affected populations by working with customers at the Campus Cupboard to identify the types of produce customers say they would most like to see and planting the most requested produce at the campus garden.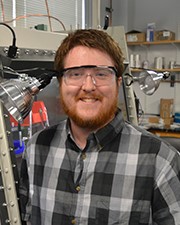 David Sconyers, PhD candidate in Chemistry
David recently completed his PhD on the topic of carbon dioxide conversion into fuels. His research could directly impact new technologies for the conversion of CO2 into more useful fuels and chemicals, using a process that could be transformative in terms of reducing the impact of the catalysts normally used in conversion. This work will not only expand opportunities for future research at KU, but it has led to collaborative projects outside the university that could improve sustainability in the petrochemicals industry.
David's work has been a shining inspiration to students and staff in the Department of Chemistry and the Center for Environmentally Beneficial Catalysis, encouraging others to work on sustainability-related chemistry and even mentoring other students who are interested in practical or "real-world" chemistry. Since the impacts of climate change are so strongly linked to issues of inequity and injustice, David's work in advancing technologies to reduce carbon emissionscould ultimately help alleviate these disproportionate impacts on historically underserved areas of the globe.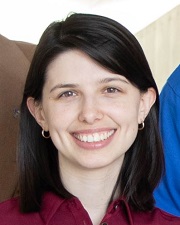 Mary Bujnak, Administrative Assistant, KU Edwards Campus
Mary's efforts with sustainability on the Edwards Campushave resulted in substantial improvements to energy efficiency, recycling, and sustainability education. Mary has contributed to the sustainability features in the built environment at the Edwards Campus such as electric vehicle charging stations, LED lighting, occupancy sensors and efficient equipment. She has been the driving force behind the campus sustainability council and their initiatives such as improving opportunities for recycling.
Mary is also champion for sustainability awareness,and regularly promotes education and responsible habits through presentations, newsletters, and the development of new training resources and engagement opportunities. In her responsibilities as an Event Coordinator, she practices and promotes sustainability when consulting with external event clients, including many area businesses and organizations. Mary's work has contributed to the Student Services Department being recognized as a KU Center for Sustainability Green Office in 2016, the Events Team & Front Desk Staff as a Green Office in 2017, and the entire Edwards Campus as a Green Office in 2018. She also played an important role in the Edwards Campus receiving R5 Certification from the Johnson County Department of Health and Environment by helping the Edwards campus achieve the five R's promoted by that program: Reinvest, Rethink, Reduce, Reuse, and Recycle.
Mary is a constant steward of responsible and respectful living, and actively searches for opportunities to engage and collaborate with different individuals, groups, departments, and external organizations. Through her dedication and leadership, there has been a substantial shift in the way Edwards Campus students, faculty, staff, event clients, and community members perceive sustainability and the impact each of us has on the community and the environment.
Revolving Green Loan Fund
The Revolving Green Loan Fund (RGLF) promotes sustainability at the University of Kansas by funding projects that are both environmentally and economically responsible, and that promote sustainable design, renewable energy, and energy efficiency.
The Revolving Green Loan Fund was started with an allotment of $40,000 to invest in:
Capital improvements that reduce the University's dependence on non-renewable energy sources
Sustainable design, construction and landscaping
Transportation improvements
Projects to educate the campus community about change that will make the campus more sustainable.
After the initial allotment, the Revolving Green Loan Fund is intended to be self-sustaining, as savings from the projects will accumulate and be reinvested in additional projects.
Goals
The Revolving Green Loan Fund (RGLF) aims to support sustainability initiatives at the University of Kansas through:
Encouraging sustainable design and construction.
Reducing budget pressures by funding efficient and renewable energy projects that will decrease utility and other spending at the University.
Sustaining the fund into the future through project savings.
By establishing this revolving green loan fund, the University of Kansas joins the growing list of public universities with revolving loan funds that promote sustainable economic and environmental practices and serve as a model for other public institutions to follow this practice.
---
Read the full Revolving Green Loan Fund Charter (pdf).