Sustainability Ambassadors
Faculty and staff can serve as Sustainability Ambassadors for their departments or administrative units. The ambassador network strives to create a more sustainable KU by generating new ideas, establishing partnerships, and sharing information about sustainable research and practices with the campus community.
Sustainability ambassador meetings are held twice a semester (four per academic year), during which members learn about campus sustainability initiatives, tour sustainable features on campus and in the community, and collaborate on solutions to the challenges we face as a campus. The expectations and opportunities of ambassadors are listed below.
Expectations
Attend 1-2 meetings per academic year
Represent the Center for Sustainability and its activities to a designated group of peers and/or colleagues
Provide feedback to Center for Sustainability from these groups
Assist Center for Sustainability in promoting campus sustainability initiatives
Opportunities
Network across campus
Shape the campus and workplace environment
Work with peers to create positive change
Provide a meaningful service to the University
Receive regular updates on sustainability-related activities
There are 80 departments and programs actively represented by a Sustainability Ambassador and we are constantly seeking to grow this network. If you are interested in serving as a sustainability ambassador, please email the Center for Sustainability at sustainability@ku.edu.
Faculty Affiliates
Faculty Affiliates support the mission of the Center for Sustainability through their teaching and/or research. These faculty members teach sustainability-related or sustainability-focused courses, or aspire to do so in the future. They may also focus on sustainability-oriented research opportunities, either independently or in connection with existing research units on campus.
Affiliates may meet once or twice per year to share their successes, learn new teaching approaches of others in the group, and discuss possible opportunities for collaboration on sustainability research initiatives. Affiliates have no formal obligations to the Center for Sustainability; however, they often serve as a point-of-contact with academic departments and help share information about campus sustainability initiatives.
If you are interested in designation as an affiliate of the Center for Sustainability, please contact us at ​sustainability@ku.edu.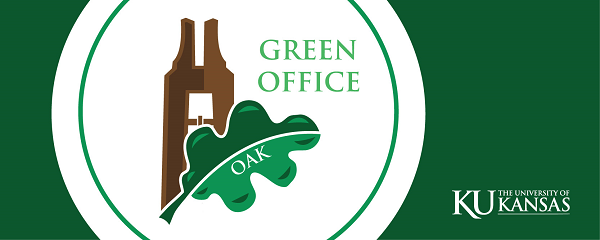 Green Office Program
The Green Office program recognizes campus departments and offices that are working to use campus resources more efficiently and create a more sustainable workplace. To become a Green Office, complete an application identifying which of the suggested workplace practices your office engages in, with each action earning points toward your status.
New and renewing Green Offices are recognized during the Sustainability Leadership Awards in April. They can display their Green Office emblem in their offices, on their website and in office publications.
NOTE: Reapplication is required every two years in order to maintain an active Green Office status. The renewed status ensures that offices are keeping up with their best practices, and many find that they have improved since they first applied.
 
The Oread Project
The Oread Project was established in 2013 to help faculty from across campus redesign an existing course – or create a new course – to incorporate sustainability content. Participants in the program attend a 2-day workshop, as well as follow-up meetings in the fall and spring semester.  Through this process, participants:
Redesign an existing course or develop a new course that  meets the University's definition for sustainability-focused or sustainability-related courses.
Develop course content that meets the needs of students in their respective departments while addressing the core values of sustainability as defined in the vision for the Campus Sustainability Plan: "protecting our natural ecosystems, creating economic prosperity, and treating all people with equality and respect."
Integrate "flipped learning" content as a means of engaging students more deeply in class materials, and as an effective way to teach and learn about sustainability.
Consider designing the course around one or more elements of the Campus Sustainability Plan.
Incorporate opportunities for engaged learning, especially as related to the sustainability plan.
Participants who complete the program and submit their revised syllabus will receive a stipend that can be used for any academic purpose, including professional development, conference travel, and the purchase of books and other class materials.
The Oread Project is modeled after similar programs on other university campuses including the Ponderosa Project at Northern Arizona University and the Piedmont Project at Emory University.
In 2017, the Oread Project evolved into a regional workshop open to faculty from any institution, in partnership with Johnson County Community College. For information contact Kristy Howell at khowel13@jccc.edu.
Volunteer
The Center for Sustainability facilitates volunteer programs for individuals who want to be involved in campus sustainability efforts:
Prairie Acre Restoration Project — Help restore, expand, and maintain this historic tract of untilled land behind Blake Hall.
Rock Chalk Recycle — Help us educate the public about how to recycle and compost at KU Football and Basketball games. Enjoy the energy of a game as we divert tons of concession waste from the landfill!
Replant Mt. Oread — Volunteer to plant trees and other beneficial landscaping at this annual campus event.
The Student Rain Garden — Learn about native plants and ecosystems while helping to maintain this student inspired project at Ambler Recreation Center.
Contact the Center for Sustainability at sustainability@ku.edu for information about upcoming volunteer opportunities.